Contact Us
| Home Page |
Back Issues
| SUBSCRIBE FREE |

Submissions |
Troubleshooting Email
A Few Featured Breaking
American Indian News Stories:

TRIBES SCOTUS Politics


U.S. Supreme Court Upholds Tribal Sovereignty


TRIBAL WATER WARS (continue)


CTCA (Chairman Bo Mazzetti) In The News

Corona Virus COVID-19 Information for American Indians
CALIFORNIA'S TRIBAL NEWSPAPER
Indian Reservations: Northern | Central | Southern
Serving Tribal Governments Across the Nation!
"The American Indian Reporter" (AIR) was originally designed to serve American Indian tribal members in lower California. Our newspaper continues to be the only tribal-produced newspaper dedicated to serving the 31 Indian reservations located in Southern California with today's local and national top breaking news in Indian country, for OP-ED, community-based feature stories and niche advertising.
BREAKING AMERICAN INDIAN NEWS SOURCE
Our tribal news coverage has expanded nationally to include central and northern California, as well as the 574 Native American tribes in the United States through our tribal network of websites, including electronic delivery of our bi-weekly, full-color newspaper.

WE WANT YOUR NEWS AND PARTICIPATION
The American Indian Reporter leaders actively seek to strengthen tribal voices and assist the next generation of Native American writers, leaders, photographers, social media correspondents and indigenous rights activists through bona fide publishing opportunities in professional print media and Web publishing.
If you have a news tip, a story idea, public notice or opinion letter to publish - if you want to get involved with our tribal publications or just want to leave us a comment - please contact our publisher directly: Ernie C. Salgado Jr. (Soboba tribal member).
Supreme Court — Politics: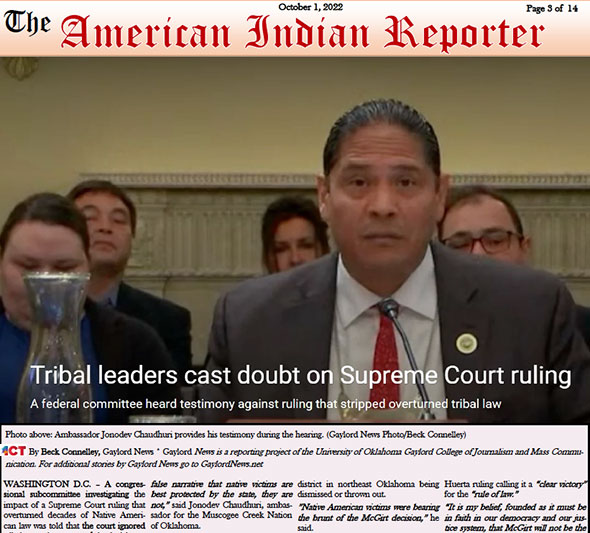 TRIBAL LEADERS CAST DOUBT ON SUPREME COURT RULING
by Beck Connelley, Gaylord News * Gaylord News is a reporting project of the University of Oklahoma Gaylord College of Journalism and Mass Communication. For additional stories by Gaylord News go to GaylordNews.net
WASHINGTON D.C. – A congressional subcommittee investigating the impact of a Supreme Court ruling that overturned decades of Native American law was told that the court ignored tribal sovereignty to reach its decision.
The ruling, which came in June, saw the court assert that both federal and state agencies held concurrent jurisdiction when it came to prosecuting non-natives for crimes on native land. In Oklahoma, the 5-4 ruling modified the impact of the court's landmark McGirt v. Oklahoma which has led to the affirmation of Indian Country reservations covering much of eastern part of the state while setting new precedents in terms of criminal jurisdiction.

Five tribal leaders from across the country testifying before the Subcommittee for Indigenous Peoples of the U.S. uniformly denounced the decision that impacts more than 500 tribes across the country.
"Castro-Huerta undermines tribal jurisdiction and sovereignty by creating a false narrative that native victims are best protected by the state, they are not," said Jonodev Chaudhuri, ambassador for the Muscogee Creek Nation of Oklahoma....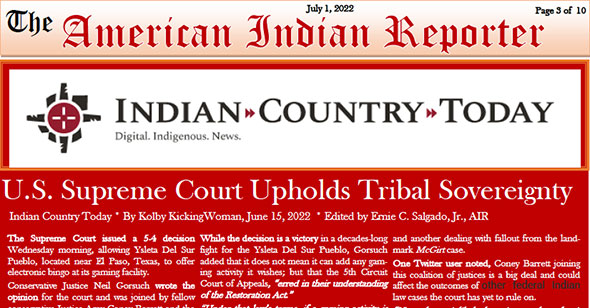 US Supreme Court Upheld Tribal Sovereignty
INDIAN COUNTRY TODAY
by Kolby Kicking Woman, June 15, 2022
Edited by Ernie C. Salgado Jr
The Supreme Court issued a 5-4 decision Wednesday morning, allowing Ysleta Del Sur Pueblo, located near El Paso, Texas, to offer electronic bingo at its gaming facility.
Conservative Justice Neil Gorsuch wrote the opinion for the court and was joined by fellow conservative Justice Amy Coney Barrett and the three liberal justices to form the majority opinion.
"In this case, Texas contends that Congress expressly
ordained that all of its gaming laws should be treated as surrogate federal law enforceable on the Ysleta del Sur Pueblo Reservation.
"In the end, however, we find no evidence Congress endowed state law with anything like the power Texas claims," Gorsuch wrote....
California Tribal Chairpersons Association, Inc.
CTCA LATEST BREAKING NEWS:

"The mission of the CTCA is to promote unity and strength by advocating for all California Indian people. As my father taught me, it is important to improve the lives for future generations and to pursue a path that younger tribal leaders can follow, like our tribal elders did for us," Mazzetti said.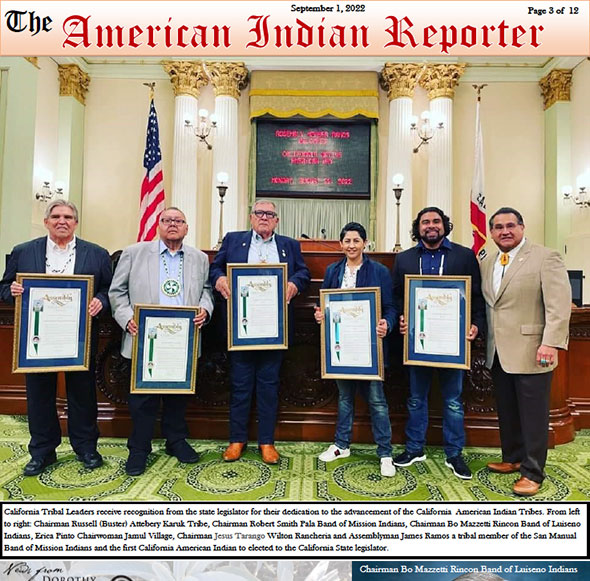 CALIF Tribes Establish New Executive Council Uniting Southern, Central, Northern Indian Reservations
by Ernie C. Salgado Jr., Publisher
The American Indian Reporter
SACRAMENTO, CA - On Tuesday, April 9, 2019, the Southern California Tribal Chairmen's Association, Central California Tribal Chairpersons' Association and the Northern California Tribal Chairpersons' Association joined forces to formally establish the California Tribal Chairpersons' Association (CTCA), a state-wide organization established to collectively address critical issues facing Tribes in California ...
READ THE FULL HISTORIC CALIFORNIA TRIBAL CHAIRPERSONS' ASSOCIATION STORY

BOARD OF DIRECTORS:
The CTCA Board of Directors consist of one representative from each of the member tribes. The six-member Executive Council is composed of two representatives from the three geographical areas identified as Southern, Central, Northern.
SIX-MEMBER COUNCIL:

Bo Mazzetti, Chairman of Rincon Band of Luiseño Band of Indians was elected Chairman of the CTCA.

Michael Hunter, Tribal Chairman of the Coyote Valley Band of Pomo Indians was elected Vice Chairman of CTCA.

Garth Sundberg, Tribal Chairman of the Trinidad Rancheria was elected Treasurer of the CTCA.

Erica M. Pinto, Tribal Chairwoman of the Jamul Indian Village of California was elected Secretary.

Kevin Day, Tribal Chairman of Tuolumne Band of Me-Wuk Indians was elected Member at Large of the CTCA.

Dale Miller, Tribal Chairman of Elk Valley Rancheria was elected Member at Large of the CTCA.

Denis Turner, Executive Director of the Southern California Tribal Chairmen's Association, Inc. SCTCA, provided the organization with expertise on the development of organizational document and in-service training.
TRIBAL WATER RIGHTS: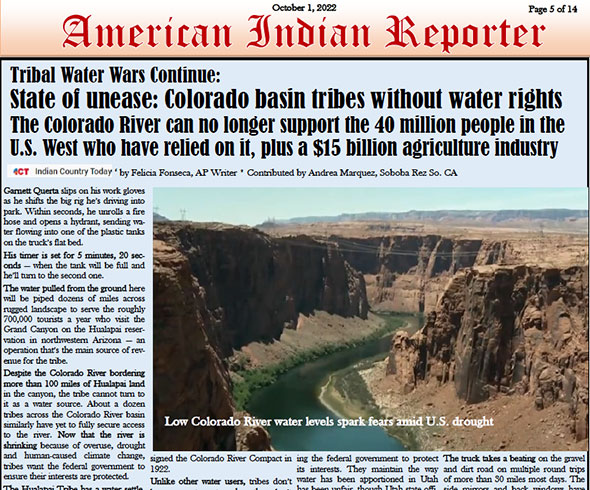 Source: Indian Country Today
by Felicia Fonseca, AP Writer
Contributed by Andrea Marquez, Soboba Rez So. CA
Garnett Querta slips on his work gloves as he shifts the big rig he's driving into park. Within seconds, he unrolls a fire hose and opens a hydrant, sending water flowing into one of the plastic tanks on the truck's flat bed.
His timer is set for 5 minutes, 20 seconds — when the tank will be full and he'll turn to the second one.
The water pulled from the ground here will be piped dozens of miles across rugged landscape to serve the roughly 700,000 tourists a year who visit the Grand Canyon on the Hualapai reservation in northwestern Arizona — an operation that's the main source of revenue for the tribe....
WE WANT YOUR NEWS!
Please contact us to submit your reservation news tips, story ideas, articles, photographs, OP-ED letters to the editor, open letters to the American Indian community...
Our Native American newspaper serves the thirty one Southern California Indian reservations and their tribal members:
Agua Caliente Band of Cahuilla Indians
Augustine Band of Cahuilla Indians
Barona Band of Mission Indians
Cabazon Band of Mission Indians
Cahuilla Band of Cahuilla Mission Indians
Campo Band of Kumeyaay Indians
Chemehuevi Indian Tribe
Ewiiaapaayp Band of Kumeyaay Indians
Iipay Kumeyaay Nation of Santa Ysabel
Inaja-Cosmit Band of Kumeyaay Indians
Jamul Indian Village
La Jolla Band of Luiseno Indians
La Posta Band of Kumeyaay Indians
Los Coyotes Band of Cahuilla Indians
Manzanita Band of Kumeyaay Indians
Mesa Grande Band of Mission Indians
Morongo Band of Mission Indians
Pala Band of Mission Indians
Pauma Band of Luiseno Indians
Pechanga Band of Luiseno Indians
Ramona Band of Cahuilla
Rincon Band of Luiseño Indians
San Manuel Band of Mission Indians
San Pasqual Band of Mission Indians
Santa Rosa Band of Cahuilla Indians
Santa Ynez Band of Chumash Indians
Soboba Band of Luiseno Indians
Sycuan Band of the Kumeyaay Nation
Torres-Martinez Desert Cahuilla Indians
Twenty-Nine Palms Band of Indians of California
Viejas Band of Kumeyaay Indians
FULL-COLOR TRIBAL NEWSPAPER
MONTHLY CIRCULATION: 10,000 printed, unlimited electronic downloads
PRINTED COPIES MAILED OUT MONTHLY TO EVERY TRIBAL OFFICE ACROSS THE UNITED STATES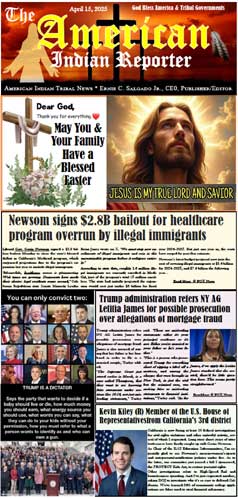 Our bimonthly (published every two weeks) tribal community newspaper is printed in full color and trimmed to 11x22 inches. It includes up to 32 pages and specializes in interesting tribal commentary and professional journalism at its grass roots.
Our delivery services currently offer subscribers free downloads to PDF copies of our newspaper.
Please CONTACT US for more information.
Please SUBSCRIBE to our news service.
Please read our DISCLAIMER & USER AGREEMENT*.
The American Indian Reporter is based strictly on my humble opinion of the numerous tribal matters and issues. It is not intended to represent the views or positions of any American Indian Tribal Government, American Indian organization, community organization or private-sector sponsor of the American Indian Reporter.
The primary purpose of this newspaper is to provide information to the American Indian population and general public on American Indian affairs at the local, state and national levels.
Any reproduction or posting of any data herein in any form is strictly prohibited unless authorized or used for educational purposes. Violators will be subject to us creating an effigy of you and stick it with pins and needles.
Please review the binding LEGAL AGREEMENT that governs your use, storage and release of this website's content.